Blog
How to decide whether you can afford a bigger home
4/2/2019
By Krystal Frederick
Mortgage lending consultant supervisor at Dupaco Community Credit Union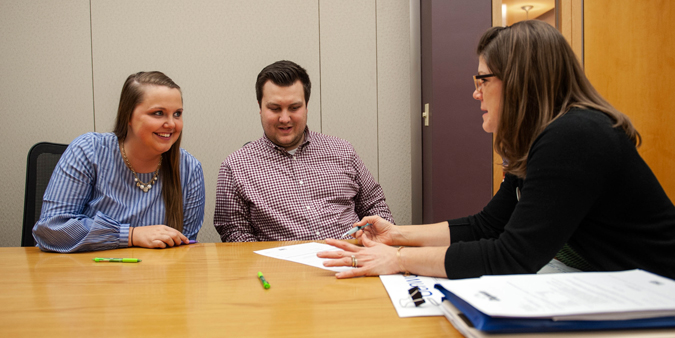 Dupaco members Tom and Rebecca Ameche close on their first home with Dupaco's Krystal Frederick (right) last April at the Dupaco branch in Asbury, Iowa. With the help of their credit union, the couple purchased their Dubuque, Iowa, home a few months before their wedding day. Read their story > (M. Blondin/Dupaco photo)
---
Maybe your household has grown. Or your income has increased in recent years. Maybe you're simply ready to trade your first house for one with a larger footprint.
Whatever reason has you dreaming of a bigger home, the good news is that you've been there, done that—so you're more familiar with the homebuying process than you were the first time around.
As you weigh the pros and cons of a home upgrade, understand what you're really looking for in your next house. And take the time to crunch all the numbers. More home means more expenses.
Here's a breakdown of what to consider—in addition to the mortgage and interest—when looking at a larger house:
Things to consider when you're looking to buy a larger house

Compare property taxes.

If your next house is in a different neighborhood, you might be looking at more expensive property taxes, which will affect your budget.
If you have a real estate agent, ask what kind of property taxes you can expect in the neighborhood you'd like to live in. Another option: Go to your county assessor's website and enter an address to see past property taxes for that home.
Calculate the utilities.

A bigger house means more rooms to heat in the winter and cool in the summer. If you're serious about buying, and find a property you're interested in, ask your real estate agent to find out what the seller's average utility bills are during each season.
Another factor to consider: Costs associated with city services, such as water and refuse collection, vary from one community to the next. If you're thinking about moving to another city, find out what that community's fee structure is.
Check into your insurance.

Communicate with your insurance agent to find out how a different home might impact your homeowner's insurance premiums. The price might fluctuate depending on the size of the home, age of the house, your homeowner's insurance history and your credit score.
Know how much it costs to sell.

When you sell a house, you're typically responsible for certain aspects of the transaction, including the agents' commissions, attorney fees and other charges. Talk to your mortgage lender or real estate agent to find out what charges you will incur.
Review your budget.

If you're nervous about a larger monthly payment, come into Dupaco for a free Money Makeover. There might be ways we can help you restructure your debt to free up more money in your budget.
That might mean consolidating credit cards, refinancing your student loans into a lower payment or consolidating other loans.
MORE: Try our calculator to learn how much home you can afford.
Try some practice payments.

When members are on the fence about buying a bigger house, we like them to practice paying the larger amount first.
Here's what that looks like: Say you're currently paying $1,000 a month for your mortgage, and you're considering a home that would bump your monthly payment to $1,500. Open a Dupaco You Name It Savings account, and have that extra $500 automatically transferred into that account each month.
Try that for three months and see whether you can comfortably afford it in your budget.
Get pre-approved for your loan.

As always, if you know you're going to buy a house soon, get pre-approved for your mortgage loan first. This will let you know how much you can borrow based on your income and existing debt. It also lets sellers know you're a serious buyer who can comfortably make an offer without having to rush to secure financing.
Ask about programs and products.

While many homebuyer grants are only available the first time you buy a house, there might be other options available to you, including 100-percent financing. Talk to your mortgage lender to find out what options would work best for you.